In a controversial situation on social media, the infamous Japanese YouTuber Rengoku Koroakinicknamed as the 'Citizen Arrest YouTuber', has expressed his fury after his YouTube account was banned due to violations of the platform's anti-harassment policies. Because of his name, she often appears in videos of him dressed as Kyojuro Rengoku of the franchise Kimetsu no Yaiba.
In a since-deleted, profanity-filled post on Twitter, Rengoku Koroaki regretted the permanent ban of his YouTube channel and claimed to have lost between 1.5 and 2 million yen per month (between 9.8 and 13.1 thousand dollars) in passive income. Outraged, he declared:
«The banning of my YouTube channel sucks. Google employees and management are too incompetent, this is completely unreasonable. I will sue them! Give me back my 2 million yen a month passive income! How am I supposed to eat now, for God's sake?».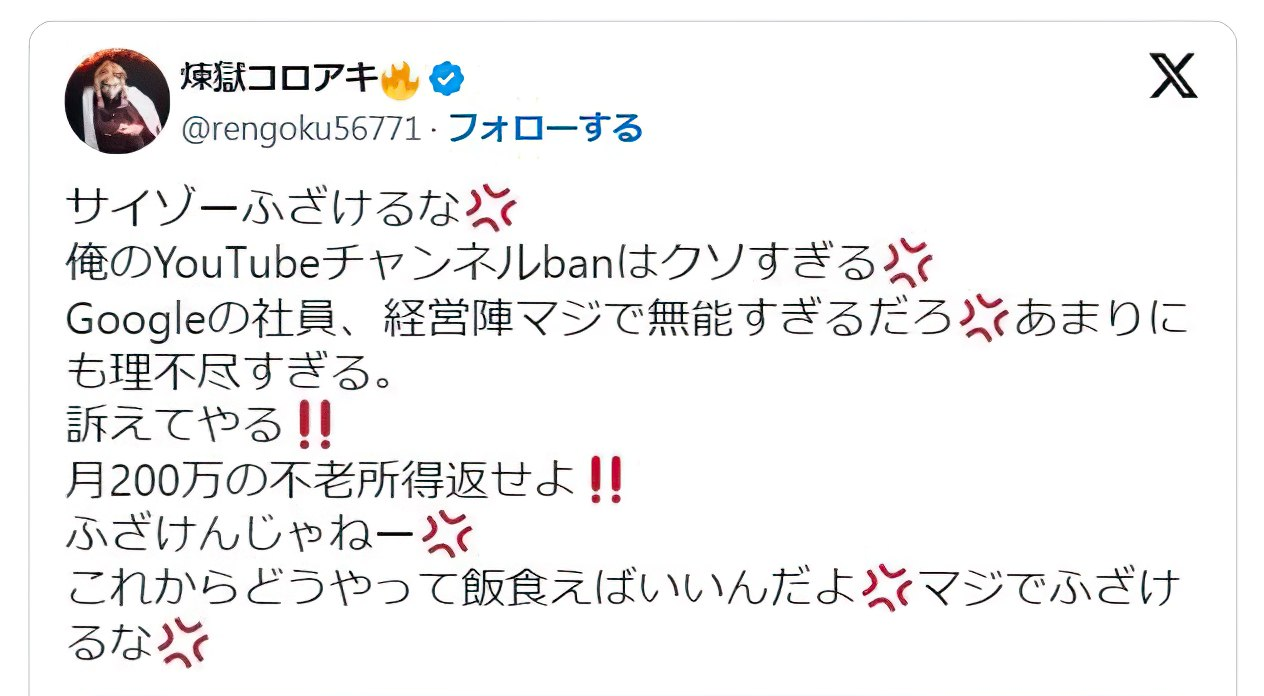 Rengoku Koroaki announced that he would be joining the popular YouTube channel "Shinjuku 109 KENZO", but a member of the latter quickly denied the statement. In a post on Twitter, the member of Shinjuku 109 KENZO revealed that he gave a long talk to Rengoku Koroaki and assured that he would never be part of his channel. He also had Rengoku Koroaki delete the post.
In an unexpected twist, a selfie of Rengoku Koroaki with the troubled foreign YouTuber was revealed Johnny Somali, whom he claimed to have "rehabilitated." Koroaki's response to this was categorical: «It's me! I never intended to join! I wouldn't be myself if I joined any group, which would make my fans and detractors sad. I will pay my own debts».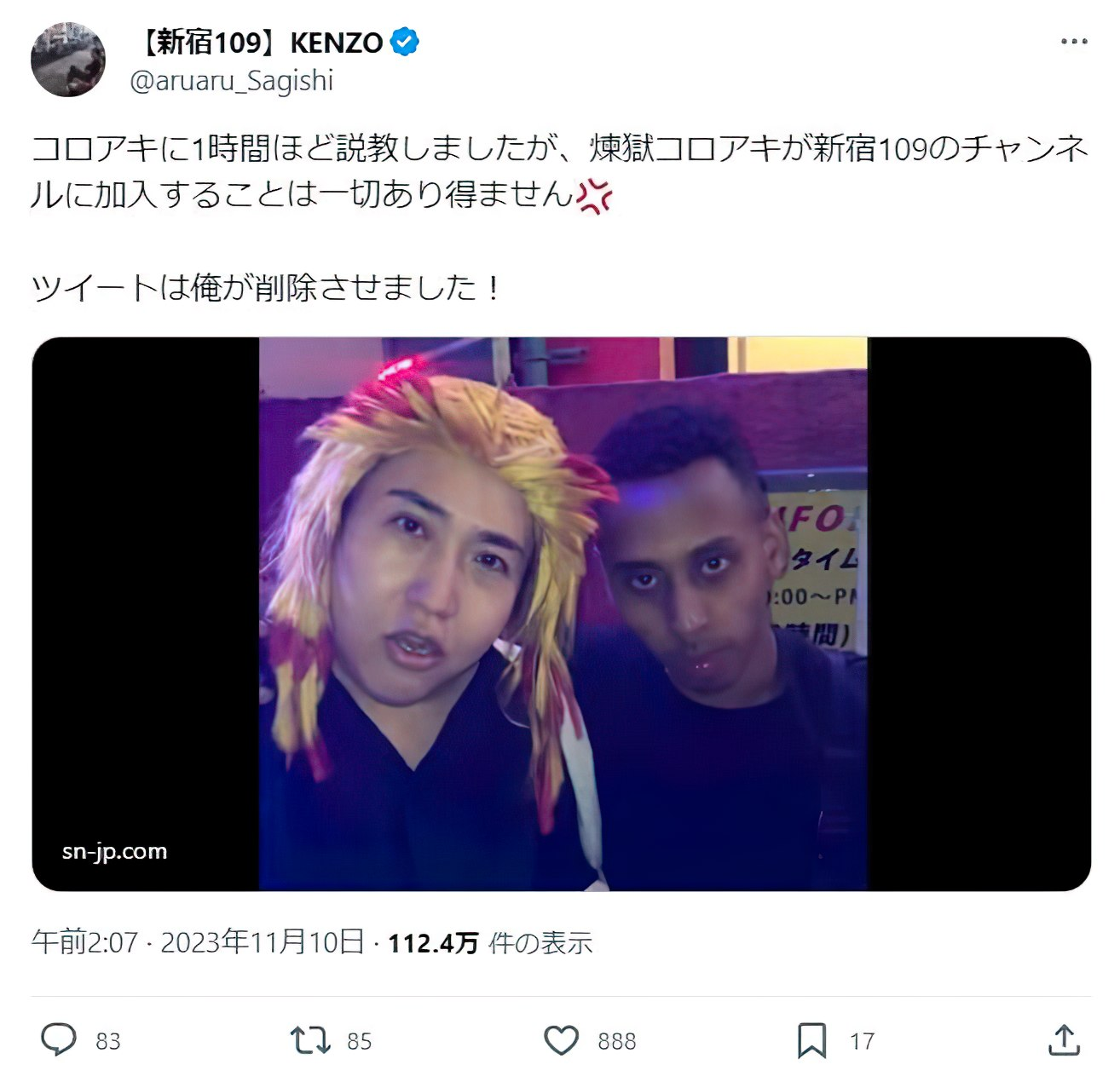 After the ban on YouTube, Rengoku Koroaki, who previously claimed to have worked as a host (places where women go to drink alcohol and have a friendly conversation with cute guys), Now he is desperately looking for work in that field. Calling on club owners in Kabukicho or Roppongi, he requested on social media: «I got banned from YouTube, so now I'm hosting Rengoku Koroaki! Please get in touch! I will continue with my influencer activities!».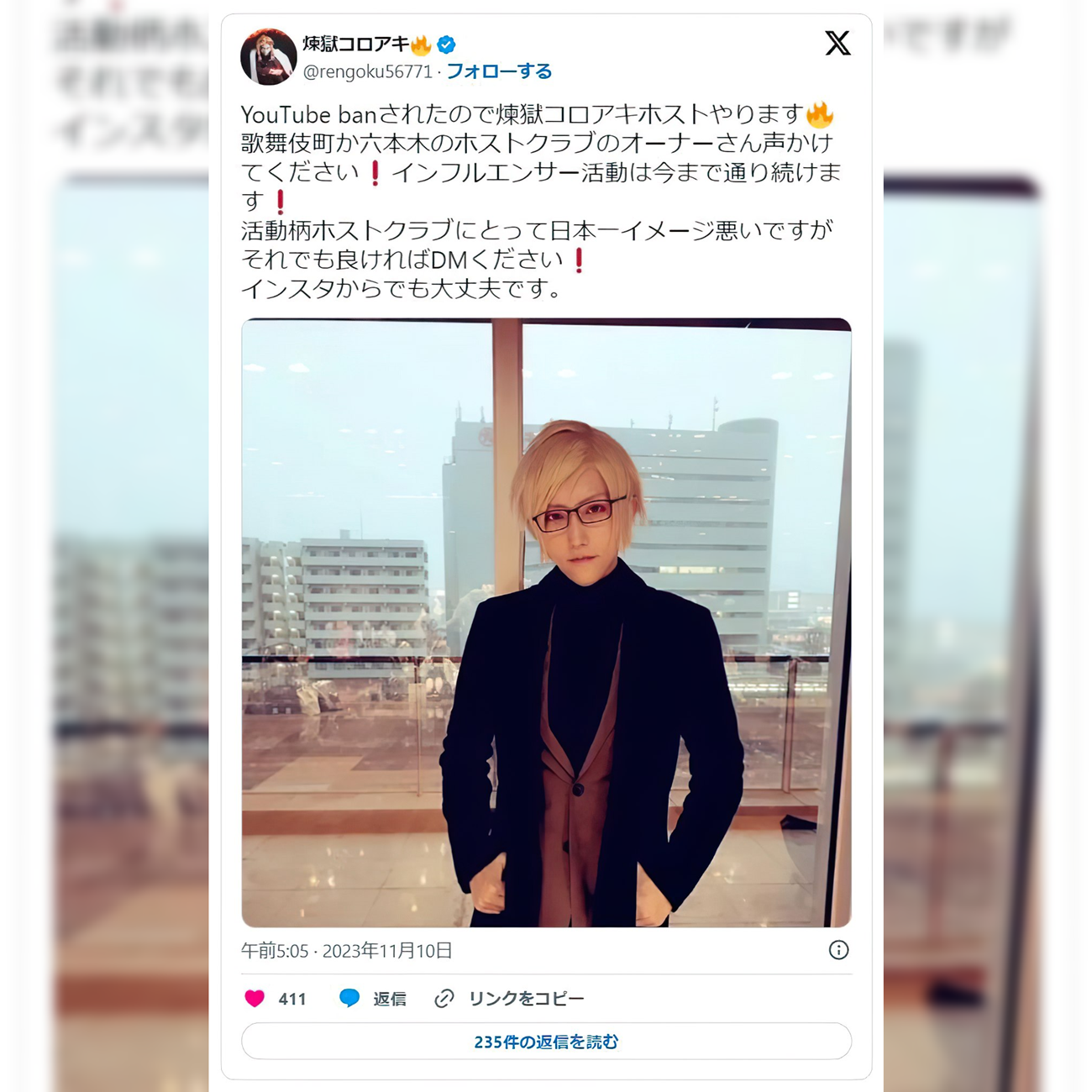 The reaction of Japanese Internet users was mostly humorous, questioning Rengoku Koroaki for the use of Photoshop on his images and asking what had happened to his overweight. The controversy surrounding this peculiar YouTuber continues to generate comments online as he seeks to reinvent himself after being banned from YouTube.
Fountain: Esuteru Blog