As we had previously reported, this week the premiere of the anime adaptation of Our Dating Story: The Experienced You and The Inexperienced Me (Keikenzumi na Kimi to, Keiken Zero na Ore ga, Otsukiai suru Hanashi). The long title contains a simple plot, but problematic for some, since it tells a story of romance between a virgin boy and a girl who has had more sex than you can imagine.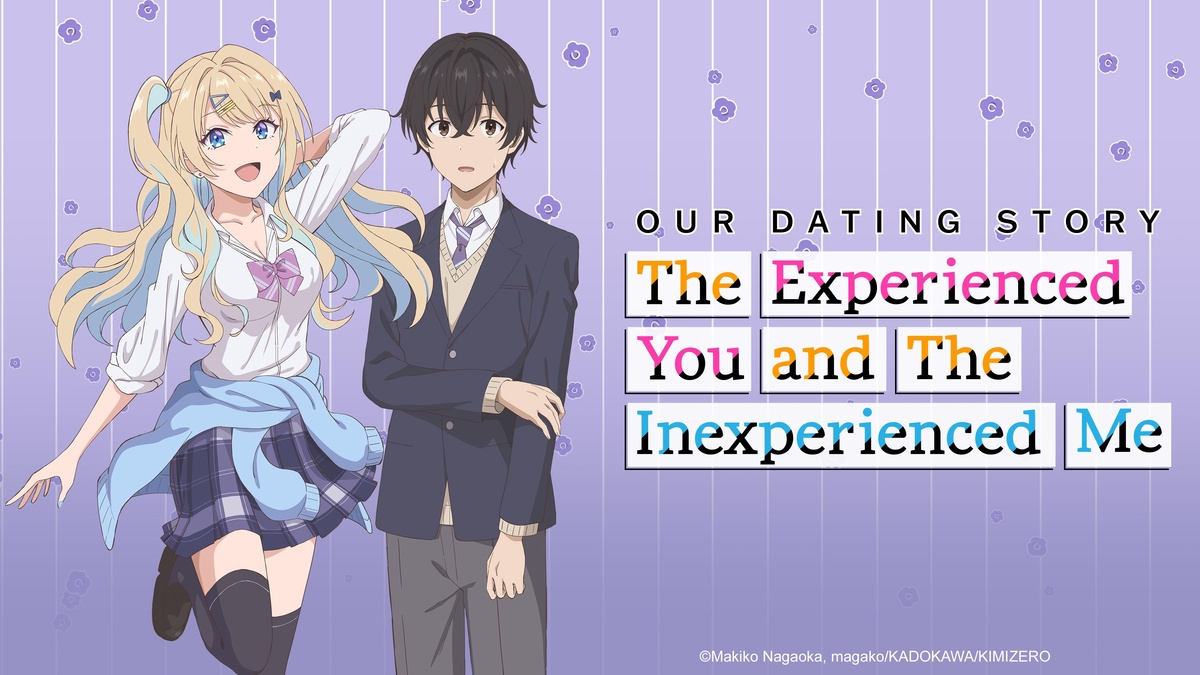 To get into context, the synopsis writes:
Ryuuto Kashima is a gloomy high school student. As part of a punishment game, he is forced to confess to Runa Shirakawa, a girl from the highest caste at the school whom everyone admires. They end up dating for the unexpected reason of "Err, I'm free now so…", but Ryuuto ends up following and eavesdropping as Runa is confessed by a handsome member of the soccer club, and Runa takes Ryuuto, who she had just started dating, to her own room to have sex as a matter of course. They have different friends and ways of having fun, and they are different in almost everything. However, they begin to relate to each other after being surprised every day by their differences and accepting them.
Of course, the idea of ​​a sexually active woman is not new, even if it is a high school student (that is, a minor). However, it seems that the concept has not entirely pleased viewers, since some have begun to issue negative comments about the fact that the protagonist (or "heroine", as they are called in these types of stories) she is not a virgin woman.
Let's review some of the negative opinions that, with only one episode aired, this series has already inspired:
«That's a lot of red flags displayed in one afternoon. Either she is too innocent to understand that she has been used as a piece of rent meat or she has serious childhood problems. In any case, his background is sad from the start.».
«Just to make sure I understand…this girl has so little self-esteem and self-respect that she lets her boyfriend do whatever whenever? Even in less than 12 hours of meeting each other? I don't know bro, I feel a little disgusted».
«What the hell did I just see?».
«I feel bad for her and for the protagonist. He could find a better girl who wants real love and friendship not that fucked up thing. Imagine dating someone and everyone saying that he already slept with her. I would leave immediately».
«Well then she literally is a slut».
«That's wild… her parents worry me if she really believes that she lets them do whatever they want and it's her duty to have sex with her partners».
«Remember this is just an anime, turn off your brain. Anything you think won't help you, it will only ruin your experience.».
«I thought this was going to be a cute anime… But no, she just wants to get fucked every day! No, thanks».
«Only in anime can so many red flags be considered cute and quirky. She is not well».
«Gosh, I wish she wasn't such a slut. I guess I'll leave it at the first episode.».
«The real question is, would you marry an Only Fans model?».
«What is going on in this girl's brain? I hope it's some misunderstanding but I don't see how. It makes me a little sick but let's see how it goes».
«Five minutes and….Nah… If this is your thing, great. I do not judge. It is not the content of the relationship, but rather the style of the story. I think this whole introverted loser (protagonist's own words) getting the super hot girl thing is just lazy storytelling. I'm sure there are other things coming this season that have developed the romantic story lines better. To all who stay, I hope you enjoy it».
«Yes, the author went too far with her past. I mean, sex on the first day? But anyway, she tried to reflect some people's realism. Not everyone you meet is a virgin. If you give her a chance, in the end she will show her regret. She will wish Ryu was her first time at all and she will want everyone else's first time. Yes, what's done is done, but it doesn't matter if you're first or not, make sure you're last!».
«She's a slut! A slut! A damn bitch!».
«For anyone wondering, she was fucked by all of her previous boyfriends. I had to read the manga because she piqued my curiosity. She doesn't really explain how she got to that point, all she says about her life is that she never knew how to love, since the only times she felt loved was during sex and that's it. I give it a 3 out of 10 for the story, as it is heartwarming for the girl. Just shit for the boy».
«The show doesn't seem bad but I can't feel that the main character deserves better than other people's leftovers.».
«The fact that she is constantly treated like this by every previous guy is just disgusting. I'm surprised she didn't fall in love with the protagonist as soon as he denied it because she wants to develop the relationship. Plus we already know that other guys are going to go after her saying that she shouldn't be with a guy like him, I'm curious to know how she's going to respond.».
«Everyone is going to be enduring the most heart-wrenching pain once all twelve episodes have aired. Romantic comedies are like that unfortunately, anyway see you all next week».
«I'm retracting a statement because I now know this is written by a woman, so I'm not wary of it making the female character more open to sex… it's just really creepy when a male writer writes it that way… It can still be creepy, but the creepiest parts tend to come from someone who isn't willing to be thoughtful about it…».
«I thought it would be like a typical, innocent deconstruction of a girl character that anime like "More Than a Married Couple But Less Then Lovers" and others have done, but no. As if the heroine was just a girl who slept with all of her boyfriends and then offers to sleep with the main character on day 1 of the relationship. This program may very well be healthy, but the beginning turned me away from it. I just feel sorry for the main character, as it doesn't seem like the two of them are experiencing a romance together, but rather the main character is simply having sloppy seconds. So if you think like me, you'll want to leave this anime».
Fountain: Crunchyroll