On the official site for the anime adaptation of the manga written by Riichiro Inagaki and illustrated by boichi, Dr STONEa new promotional video was revealed for the second part of the third season of the project, titled as Dr STONE NEW WORLD.
The video confirmed that this second part will premiere on October 12, 2023 in Japanand also revealed that the opening theme song will be titled "Haruka" and will be interpreted by ryuujin kiyoshiwhile the closing theme "suki ni shinayowill be played by only.
Inagaki and Boichi began publishing the manga in the magazine. Weekly Shōnen Jump from the publisher Shueisha in March 2017 and completed in March 2022. The work inspired a twenty-four episode anime adaptation produced by the studios TMS Entertainmentunder the direction of Shinya Iino and scripts written by yuichiro kidopremiered in July 2019. A second season of eleven episodes premiered in January 2021, followed by the special episode Dr. STONE Ryuusui in July 2022.
Production team
Shinya Iino (Black Fox) is in charge of directing the anime at the studios TMS Entertainment.
Yuuichirou Kido (Eizouken ni wa Te wo Dasu na!, Nanatsu no Taizai: Seisen no Shirushi) is in charge of writing and supervising the scripts.
Yuko Iwasa (Yowamushi Pedal Movie) is in charge of character design and animation direction.
Tatsuya Katō (Buddy Complex, comet lucifer, Fate/kaleid liner Prisma☆Illya) is in charge of the composition of the soundtrack under the sound direction of Jin Aketagawa.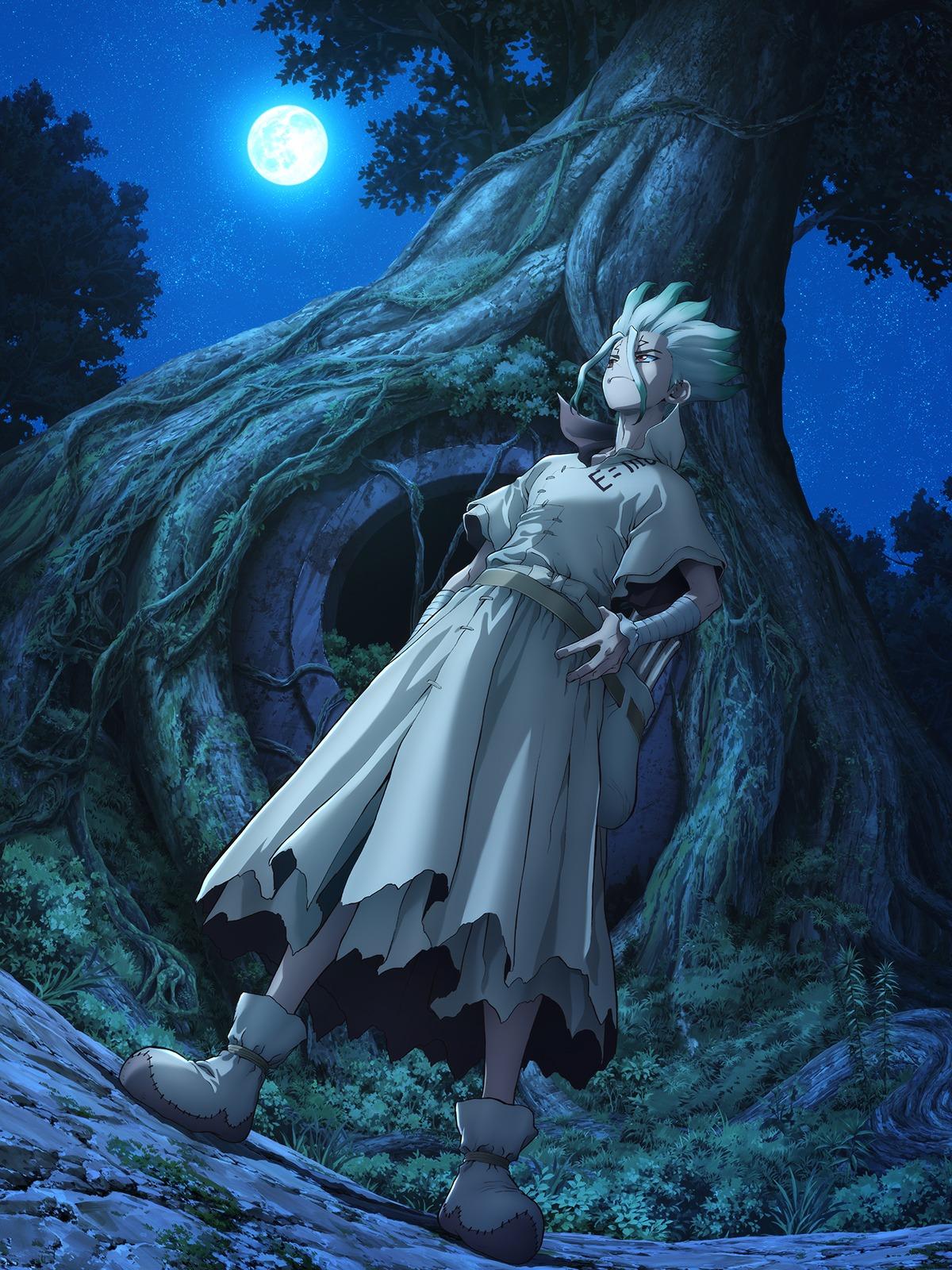 Synopsis of Dr STONE
After five years of harboring unspoken feelings, high school student Taiju Ooki is finally ready to confess his love to Yuzuriha Ogawa. However, just as Taiju begins confessing to him, a blinding green light strikes the Earth and petrifies humanity throughout the world, turning every human to stone. Several millennia later, Taiju awakens to find the modern world completely non-existent, as nature has flourished in the years that humanity stood still.
Among a stone world of statues, Taiju meets another living human: his science-loving friend Senkuu, who has been active for a few months. Taiju learns that Senkuu has developed a grand plan: to launch the full revival of civilization with science. Taiju's strength and Senkuu's brains combine to forge a formidable partnership, soon discovering a method to revive the petrified. However, Senkuu's master plan is threatened when his ideologies are challenged by those who awaken. Meanwhile, the reason for humanity's petrification is unknown.
©米スタジオ・Boichi/集英社・Dr.STONE製作委員会