On the official site for the anime adaptation of the manga by Kentaro Yabuki, Ayakashi Triangle, a new promotional video for the project was revealed. The video confirms that the series will be restarted from its first episode on July 10 in Japanafter being suspended due to production problems derived from the COVID-19 pandemic.
The series had premiered on January 10 in Japan and underwent a variety of temporary suspensions before reaching a permanent suspension after airing only six episodes. On the other hand, the Blu-ray/DVD releases have also been delayed to start being released in September this year, and were originally scheduled for March.
The platform crunchyroll is responsible for the distribution of this series with censorship. For his part, Yabuki began publishing the manga in the magazine issue Weekly Shōnen Jump from the publisher Shueishain June 2020 and moved to digital service Shōnen Jump Plus in April 2022. Yabuki is recognized for having also been the illustrator of the manga written by Saki Hasemi, To LOVE-Ru.
voice cast
Shouya Chiba as Matsuri Kazamaki (male).
miyu tomita as Matsuri Kazamaki (female).
kana ichinose like Suzu Kanade.
Tesshou Genda like Shirogane.
Production team
Noriaki Akitaya (Code Geass: Hangyaku no Lelouch, Bakuman, Ore wo Suki nano wa Omae dake ka yo) is in charge of directing the anime at the studios CONNECT.
shougo yasukawa (Shokugeki no Souma, Dungeon ni Deai wo Motomeru no wa Machigatteiru Darou ka?, Rakudai Kishi no Cavalry) is in charge of writing and supervising the scripts.
Hideki Furukawa (Date A Live, Watashi ga Motenai no wa Dou Kangaetemo Omaera ga Warui!, High School DxD Hero) is in charge of character design and animation direction.
Rei Ishizuka (Shingeki no Kyojin, Kakkou no Iinazuke, Chikyuugai Shounen Shoujo) is in charge of composing the soundtrack.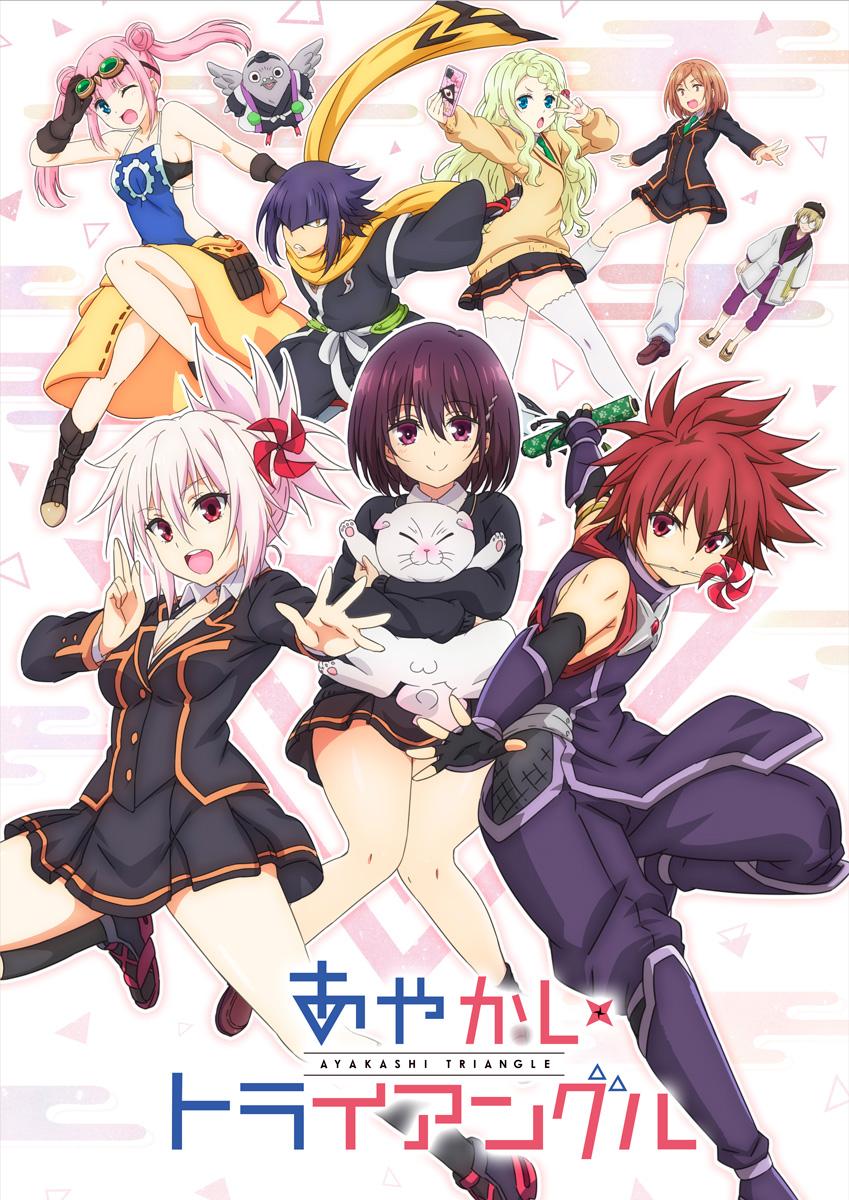 Ayakashi Triangle Synopsis
Matsuri Kazamaki and Suzu Kanade are childhood friends, bonded by their shared ability to see ayakashi-youkai in search of a life force to devour. However, in high school, their relationship deteriorates. As Suzu's one-sided feelings increase, so does the difference in their views on ayakashi: Matsuri considers all ayakashi to be a threat to her friend, while Suzu is a medium ayakashi (someone who exudes a certain amount of significant life force compared to the average human) and loves them all despite the risk. When the two stumble upon a talking white cat named Shirogane, they don't know that it is a four-hundred-year-old ayakashi known as the "King of Ayakashi."
He is hell-bent on gaining even more power by devouring Suzu, but when Matsuri swoops in to try and save her by sealing away Shirogane's powers, the ayakashi uses a jutsu to turn him into a girl! Matsuri vows to protect Suzu from further harm as her best friend, but she must learn to act like a girl until her grandfather (a famous wind jutsu exorcist ninja) can undo the jutsu. Meanwhile, Suzu must resolve his romantic feelings for Matsuri now that he is no longer a boy. But when Matsuri takes the king as his pet, the future of the two friends seems uncertain.
©矢吹健太朗/集英社・あやかしトライアングル製作委員会